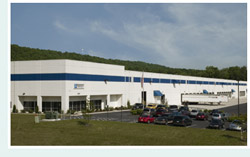 Fairview Business Park has over ¼ mile frontage on Interstate 83 (exit 35) and is only 4 miles south of the Pennsylvania Turnpike (Interstate 76) in Fairview Township, York County, PA. This project is a 172-acre, four-lot master planned park with permits, roads and utilities in place, approved for 1.8 million square feet of warehouse/distribution facilities with state-of-the-art design and specifications. Convenient site access, excellent visibility and proximity to the local labor pool make Fairview a unique opportunity for corporations seeking a high quality in-fill location in the Harrisburg/York market area.

A 275,400 square foot warehouse within the park was completed in July 2003 on a built-to-suit for sale basis for a national manufacturing company.

A modern cross-dock warehouse/distribution facility of 705,000 square feet was completed in June 2005 and leased in full. This building and an adjacent site of 88.7 acres approved for 797,500 square feet were separately sold to an international office and industrial REIT.

The last 8.75 acre site in Fairview was sold to a regional manufacturing company in February 2006.

Fairview Business Park
Harrisburg, PA
Tenants/Users
Spears Manufacturing Co., Amazon.com and A.G. Mauro

Design-Build
General Contractor

Conewago Enterprises, Inc.
Construction Financing
Community Banks, Inc.
Civil Engineering
Herbert, Rowland and Grubic, Inc.
Architect
James Baumgardner Assoc.
Leasing Broker

NAI/Commercial-Industrial Realty Company
Sale Broker
NAI/Commercial-Industrial Realty Company, CB Richard Ellis