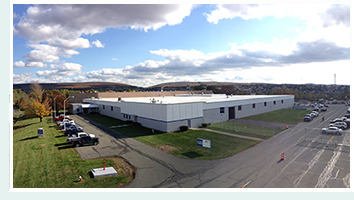 100 Keystone is a highly functional industrial building of 239,000 square feet on 22 acres of land in Dunmore (Scranton area), PA. Equilibrium acquired the building from Ocean Logistics, a subsidiary of C&S Wholesale, which utilized it as a distribution center for their health and beauty aid business. Keystone is located in close proximity to Interstate 81, which is a primary thoroughfare for distribution in the Northeast United States. The property is .7 miles from Exit 188 of Interstate 81. The property is located in a prime location at the front of the Keystone Industrial Park and is served by a signalized intersection at the corner of SR 347 and Keystone Industrial Park Road.
100 Keystone boasts building specs and locational attributes that make it quite unique for a renovated industrial facility in an infill location. The property has 50 loading doors, 308 car parking spaces, a large truck court and paved area to accommodate storage of over 70 tractor trailers. The building is comprised of an original section of approximately 90,000 square feet with an 18' clear height and a 149,000 square foot section with a 30' clear height. The building is fully racked, providing a strategic advantage with numerous potential customers.
Planned renovations include improved exterior aesthetics of the property, minor building system repairs and energy efficiency upgrades. The Equilibrium is currently marketing the property for a variety of industrial uses.